Sevenoaks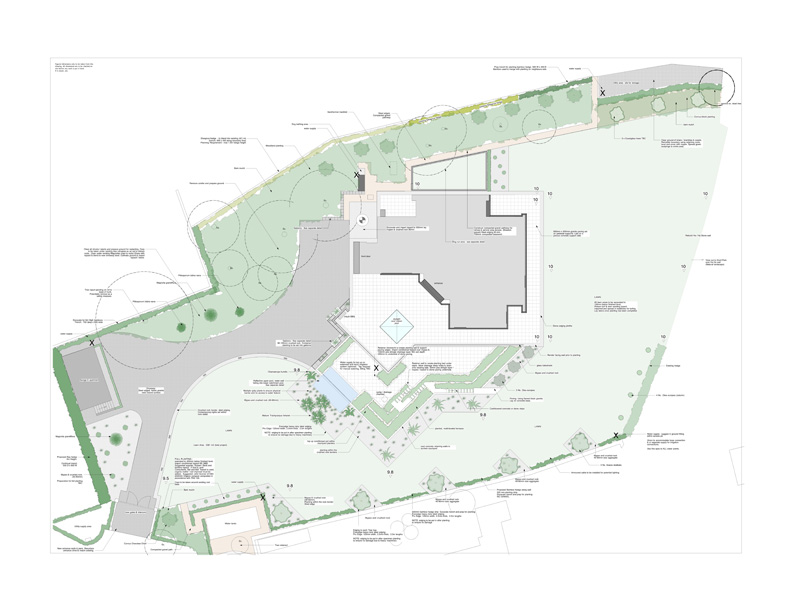 LOCATION: Sevenoaks, England
Working on this project was a great opportunity to design a garden for a contemporary new build.
The linear lines and strong geometry of the house needed to be translated into the garden design. However the house looks over a natural landscape and the design needed to merge the house with this landscape.
Mature tree and hedge plantings were introduced to block views of neighbouring buildings and create a new green boundary to the site. Wide lawns with a ha ha wall, enabled there to be clear open views over the parkland beyond.
The main planting theme is architectural planting set within crushed rock. This complements the architecture and the materials of the building. Crushed rock gabions were used as design features as well as safety elements preventing people and cars from falling to the expansive garden courtyard below. The same stone as in the gabions continued round the house as a crushed rockplanting border. This ensured that the house sat comfortably within its site.
A contemporary courtyard accessed from the indoor pool and by cantilevered cast concrete steps from the garden is a private seating area set on basement level. An expansive stone waterwall cascades down the full length of the courtyard wall from a reflective pool above, to a catchment pool below. Flanked by giant yellow stemmed bamboo and architectural planting. The waterwall can be enjoyed from the courtyard itself, or viewed from within the indoor swimming pool area through large glass windows.